Posted By Carlo on February 18, 2007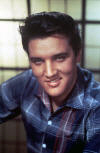 I wish I'd had a camera with me the night of Feb. 17 because I saw Elvis. He was right there, one row in front of me, in Branson, Missouri. He's big in Branson. So are Andy Williams, Charo, the Oak Ridge Boys, Glen Campbell. But Elvis is one of the select few to loom large in replica, along with the likes of Garth Brooks, Reba McEntire, Stevie Wonder and the Blues Brothers. I saw them all that night. What a bill! The audience loved it, and I thought it was some kind of trip, sometimes uplifting, sometimes not.
I was in Branson to write about a new Hilton, the first full-service hotel to hit the region. It's a smart move by Hilton because Branson is a long-time tourist destination, a city of 7,000 that caters to 7 million visitors a year. It's full of mom-and-pop businesses; what Hilton is doing with Branson Landing, where it's involved in two hotels and will manage a convention center, will change the place for sure. But that's a business story. On with that Saturday night show.
My friend Robert Allegrini, a skilled Hilton public relations professional indeed, took me to see Legends in Concert, where Elvis closed the show. It began with Garth (the replica was slightly portlier than the original) and ended with a short, skinny Elvis attired in '50s grey sportcoat and slacks and two-tone loafers. This Elvis was good; he had the sneer down, the voice had that built-in echo of the original, and the moves—the guy had the flexibility of a Cirque du Soleil dancer (fyi: There's a Cirque in Branson; hold the "du soleil"). He also stuck to Elvis's '50s material, maybe to keep his audience feeling young.
What an audience: Lots of families, lots of older people, and way, way white (I'm no spring chicken, but there, I felt young, at least at heart). Garth and Reba generously invited folks to pose with them for snapshots and autographs, and Garth even danced with some women, who looked lost in the star(s). It was so bizarre. No way audiences of the real thing can get this close. No way some of these will perform again (it's doubtful for Garth, who hasn't recorded for at least 10 years, and like it or not, Elvis is dead). Watching the connections in Branson made me aware of a whole other America eager to be amused, entertained, embraced. Another America that wants to love and be loved unconditionally.
I'd hate to be a reviewer in Branson. You'd be ridden out of town on a rail if you trashed what's popular. And everthing is popular there.
Branson's a down-home place of kitsch, mom-and-pop businesses, franchises and replicas; there's a fake Outback Steakhouse (the Outback Pub); there's a mock Starbucks; there's the World's Biggest Banjo; you can buy Alaskan art and all kinds of tchotchkes (you should see the shot glass I picked up). You can get a hotel room for a little over $20 (Robert said it's one of the only places he knows where a show costs more than a hotel). The surrounding Ozarks countryside is beautiful, the vibe friendly. But hip will be a long time coming to Branson. In the meantime, there's a more innocent America to marvel in and enjoy. And as long as there are entertainers willing to fake it deep and hard, that simpler (and perhaps kinder) America will fill Branson's theaters, keeping those Legends—once, twice, three times for the ladies—alive.